Posted by LisaB! | Under
Book Reviews
Monday Dec 7, 2009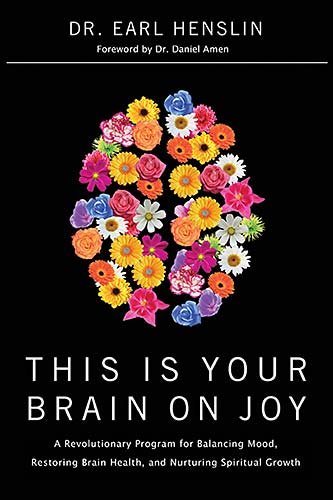 I have been a fan of Dr. Daniel Amen, of the Amen Clinics for years! When I saw he had written the forward for
This Is Your Brain on Joy
:
A Revolutionary Program for Balancing Mood, Restoring Brain Health, and Nurturing Spiritual Growth
and had worked with the author, Dr. Earl Henslin, I knew I had to read it!
Dr. Henslin is a licensed, Christian marriage, family, and child therapist practicing in Southern California. Dr. Henslin was intrigued by the SPECT scans, the incredible new scans of the human brain from the Amen Clinic. After years of study, and working with this technology with patients, Dr. Henslin wrote This is Your Brain on Joy as a guide to help us all work better with the brain we have.The book reads like a fascinating thriller to me. Granted, I am a total geek when it comes to the human body and brain and love books like this.
I dove into this book to my geeky hearts content! Chock full of information, SPECT scans, and real scenarios with patients,  This is Your Brain on Joy is an utterly fascinating book for anyone more interested in how to literally build a more joyful brain. It will help you understand yourself, your family and others around you and give you a mountain of practical information that you can try right away.
Start by taking the convenient quiz to figure out where you might be. Then read through to understanding on how to literally build a more satisfying, joyful life. We can be imprisoned within a brain that is not functioning optimally and This is Your Brain on Joy will help you unlock simple, inexpensive things you can do. It was similar to another favorite book, The Mood Cure, by Julia Ros, but went much deeper, along with the added depth of a biblical worldview. Both recommend a combination of a high protein, lower carb diet, with amino acid supplements, vitamins and other low tech things to help your brain. It does discuss prescription medications if needed, along with strategies to improve how your brain functions.Whether you have issues with depression, anxiety, anger, have had a brain injury, or just want a general tune up, This is Your Brain on Joy will help you fine tune the brain God has given you!
I would highly recommend this to anyone who is willing to prayerfully THINK through the book! This is also a fantastic book for homeschooling families – who wouldn't want a more joyful family!